Recipes Chicken with Cider & Bacon Sauce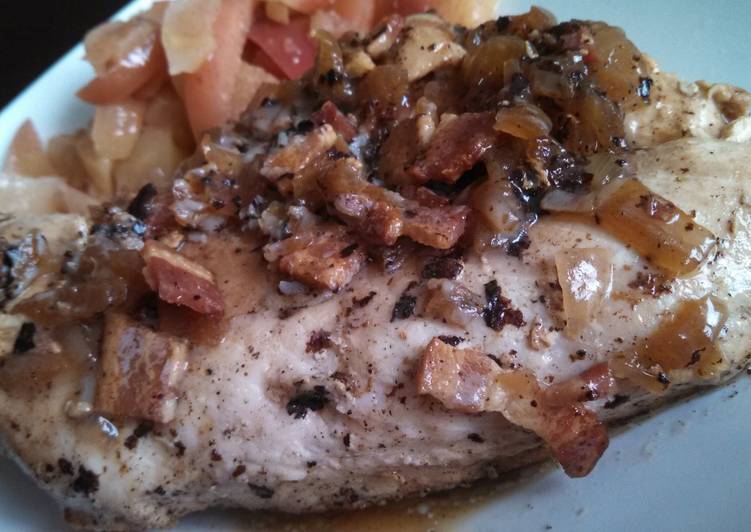 Recipes Chicken with Cider & Bacon Sauce
Chicken

2 lb boneless, skinless chicken

1/4 tsp slt

1/4 tsp fresh cracked pepper

2 slice chopped thick bacon

1/4 cup minced sweet onion

1/2 glass apple cider

1/4 glass apple ale

1/2 glass fat free, less salt chicken broth

Spiced Apple company Side

3 1/2 tbsp butter

2 1/2 tbsp granulated sugar

3/4 tsp Saigon cinnamon

1/4 tsp salt

4 tbsp hefty cream

1 splash regarding spiced rum (I prefer Bacardi Oakheart)

1 apple, largely diced (I used a honeycrisp)

1 cut chopped thick-cut bacon
Place chicken on a firm surface and flatted with a mallet o Rollin pin to 1/2 inch thickness.

Sprinkle chicken with salt an pepper on both sides.

Cook bacon in a large pan over medium heat until crisp.

Remove bacon and placed on paper towels to extract some grease.

Add chicken to the drippings in the pan; cook for 6 minutes per side, or until done.

Remove chicken and cover with foil to keep warm.

Add onion to the pan; saute for 2 minutes or until tender, stirring constantly.

Add cider, ale, and broth; bring to a boil, scraping pan to loosen brown bits.

Cook until broth mixture is reduced to 1/2 cup (about 5 minutes).

Stir in cooked bacon. Turn off heat and serve over chicken.

In a small sauce pan, melt butter over medium-low heat.

Add sugar, cinnamon, salt, heavy cream, and rum; mix to incorporate.

Add apple slice and cook until tender.