Recipes Herbed Stuffed Polenta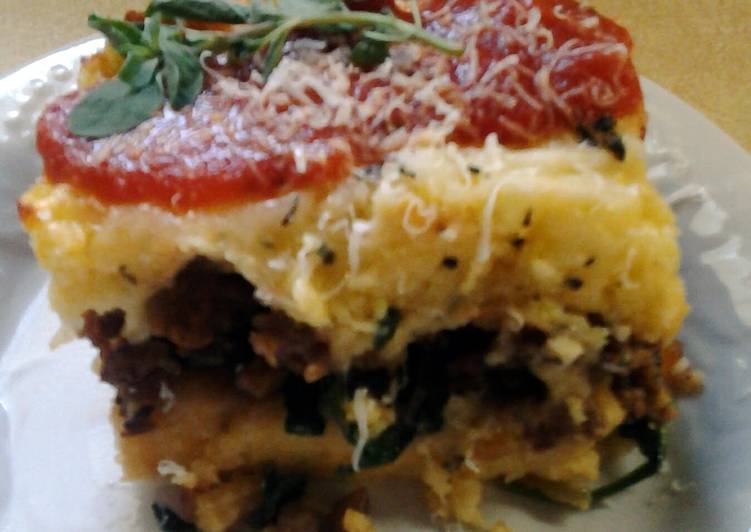 Recipes Herbed Stuffed Polenta
Polenta

1 box instant polenta (9 oz)

4 1/2 cup chicken stock

1/4 cup romano cheese, freshly grated

3 tbsp fresh oregano, chopped plus 1 tbsp for topping

3 tbsp butter

1/4 tsp salt

Filling

1 lb italian sausage

3 cup fresh baby spinach

1/4 cup onion, diced

3 clove garlic, minced

1/2 cup mushrooms, chopped

1/4 tsp salt

Cook sausage in a medium sized skillet over medium high heat. Drain and set aside.

Saute filling ingredients with olive oil and white wine until spinach is wilted, mushrooms are tender and onions are transclucent about 5 to 6 minutes.

Bring chicken stock to boil in medium sized saucepan. Add polenta and whisk for 3 minutes until cooked and thickened. Add butter, oregano and salt and romano cheese. Stir well to incorporate.

Spray a 6 x 8 baking dish (or dish of your choice) with non stick cooking spray.

Put one half of the polenta in the baking dish and dab right down to make firm.

Layer with kale mixture, Italian sausage after that cheese.

Include partner of polenta upon top of filling plus pat down to create firm. Top polenta along with remaining cheese and oregano.

Bake with regard to 25-30 minutes until cheese are melted. Remove through oven and allow in order to cool. Cut polenta plus serve topped with marinara or spaghetti sauce plus freshly grated romano parmesan cheese.