Recipes Mike's Southwestern Chicken Soup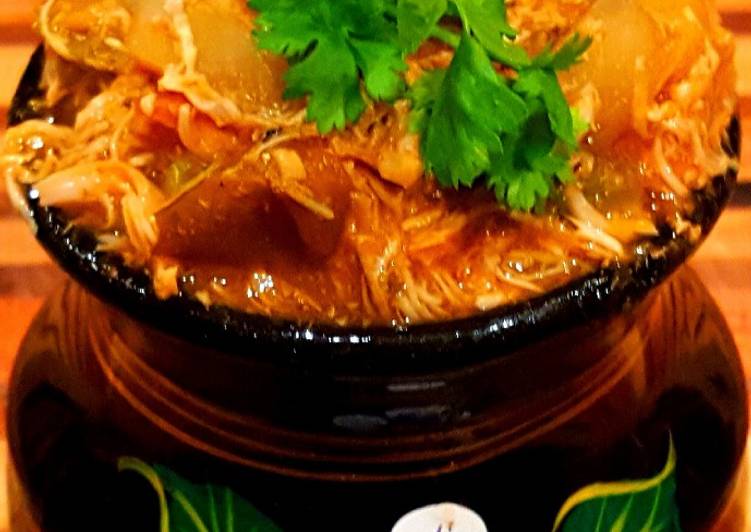 Recipes Mike's Southwestern Chicken Soup
2 Pounds Chicken Breasts, Strips Or Rotisserie [shredded]

5 (14 oz) Cans Chicken Broth

1 tbsp Maggi Chicken Bullion

4 (4 oz) Hatch Green Chilies [reserve 2 for finish]

2 LG Jalapeños [chopped]

1 Bunch Cilantro [no stems]

1 LG Viadailla Onion [chopped]

1/2 LG Green Bell Pepper [chopped]

7 Cloves Fresh Garlic [left whole]

2 Stalks Celery [chopped]

1/2 tbsp Cayenne Pepper

1 EX LG Tomato [or 2 small]

1/2 tbsp Black Pepper

1 Small Red Onion [for garnish]

1 (8 oz) Hunts Tomato Sauce

1 Pound Potatos [peeled and diced]

● For The Options

At this point, you can add noodles or little potato cubes. If opting for noodles, boil them separately as per produces directions. Then, add to your own soup. Otherwise you'll end upward with a starchy, murky, gross looking broth. If it's potatoes you want, just throw them within your simmering soup with your own vegetables for 20 minutes or, until they're softened. Also, add your remaining 2 4 ounce cans of Hatch Green Chilies along with a good handful of new cilantro leaves just prior to serving. You'll definitely want this particular layered effect.