Recipes Avocado Chicken Potato Salad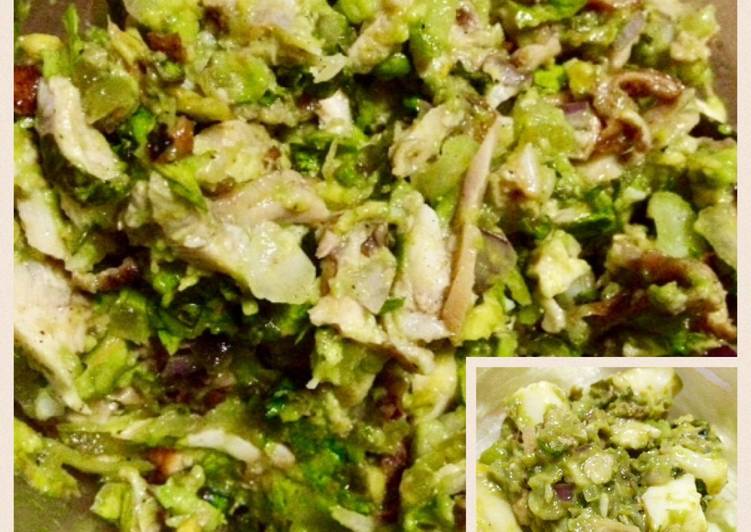 Recipes Avocado Chicken Potato Salad
1 pc grilled chicken, quarter cut

1 pack boiled baby potatoes or regular,

15-20 g avocado flesh

30 g sweet pickle relish

1 small red onion, chopped

1 celery stalk with leaves, chopped (only if eating the salad right away)

1 bunch fresh basil leaves (only if eating the salad right away)

1-2 pcs green chili

to taste Salt

1 drizzle Mayo (optional)
Cut your grilled chicken with scissors or fingers into chunky strips. I grilled mine on a George Foreman Lean Mean Grill, where oil is not needed and its own oil drips off. Grill yours on whatever you have available that doesn't use oil. Season well and try to baste your chicken with your marinade every so often to make it tasty and juicy. I used Select's All Purpose Seasoning (Moroccan tastes great with grilled chicken too), lemon, Maggi Savor or Knorr Seasoning, salt and chili powder as marinade (2 hrs or more).

Slice your (salted) boiled potatoes into quarters or bite size pieces.

Combine your chopped onion, celery, basil (don't add if you're planning to store in fridge and eat a little at a time for a few days, or just add fresh daily before serving), pickle relish and chicken in a bowl.

Add your avocado (3/4 of it). I used a teaspoon and sort of shaved off flesh thinly from the skin/peel. My avocados were ripe and quite soft which was perfect (mushy texture). It was easy to mix in with the bowl ingredients. Taste, as your chicken seasoning might have enough saltiness, if not, add a pinch. Taste again- remember you added salt to your potatoes, so don't add too much. This is how it should look. Yummy even without potatoes yet.

Once you're good with the taste, add your potatoes. Mix in to cover all pieces. Taste. Check if you have dressed your salad enough. If not, top it up with your remaining avocado. Then squirt a little mayo if desired. Mix the mayo-avocado on top before mixing it in the potato salad. This is done only if you think your salad needs more dressing. It would depend on how much potatoes you used.