Recipes Best Cut-Out Sugar Cookies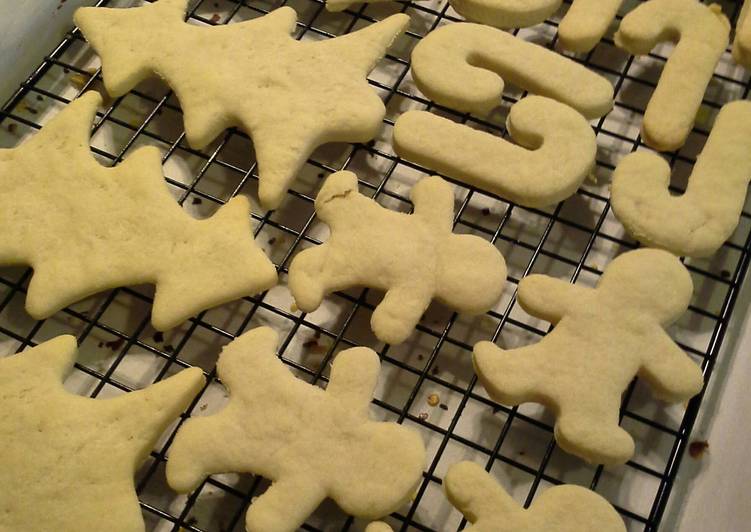 Recipes Best Cut-Out Sugar Cookies
1 cup unsalted butter, softened at room temperature for 1 hour

2 oz cream cheese, at room temperature

1 cup sugar

1 large egg

1 tsp pure vanilla extract

1/2 tsp almond extract

1 tsp lemon zest

3 cup flour

1/2 tsp baking powder

1/2 tsp salt

Large Batch (8 to 12 dozen, depending on size)

3 cup unsalted butter, softened at room temperature for 1 hour

6 oz cream cheese, at room temperature

3 cup granulated sugar

3 large eggs

1 tsp vanilla extract

1 tsp almond extract

2 tsp lemon zest

9 cup flour

4 1/2 tsp baking powder

1/2 tsp salt
In the bowl of a stand mixer (or in a large bowl, using a hand mixer), cream the butter and cream cheese with the sugar. Beat for several minutes, or until light and fluffy. Beat in the egg, vanilla and almond extracts, and lemon zest.

Mix the flour, baking powder, and salt in a separate bowl then gradually add to the butter and sugar mixture until fully incorporated and a smooth dough is formed.

At this point the dough can, and should be, chilled or frozen. If making cookies in the near future, divide the dough into 2 balls and roll each out to 1/4 to 1/8-inch thickness between large pieces of parchment paper. Refrigerate for at least 1 hour. Or freeze the dough balls, wrapped in plastic wrap and a freezer bag, for up to 1 month. To thaw, leave in the refrigerator overnight then proceed with the recipe.

To bake the cookies, preheat the oven to 350°F and prepare baking sheets by lining them with parchment or a Silpat. Cut cookies out of the rolled dough and place on the prepared baking sheets.

Bake cookies for 8 to 12 minutes, depending on thickness. Let cool for 5 minutes on the cookie sheet, then remove to a wire rack.

Cool completely before icing or decorating, and store in a tightly covered container.

Sugar Cookie Tips
•This dough freezes perfectly. The original recipe makes a very large quantity, so roll out a few sheets of dough and freeze them flat between wax paper and plastic wrap for quick cut-out cookies later.
•When you take the chilled dough out of the fridge you may need to let it sit for a few moments before it is soft enough to roll out. The high quotient of butter makes this a very firm dough.
•That firmness makes these perfect cut-out cookies for children; if you roll the dough at least 1/4-inch thick children should have no problem cutting and picking up cookie dough shapes. The dough doesn't tear easily or get too soft like other more delicate cookie doughs.
•They are firm yet tender, with a very buttery flavor. If you sandwich them with a soft filling like buttercream or Nutella the cookies soften even more.