Recipes Creamy White Chicken & Artichoke Lasagna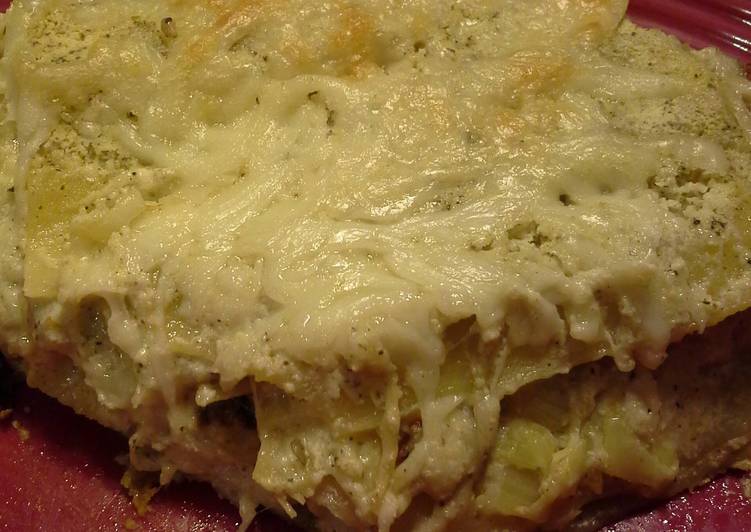 Recipes Creamy White Chicken & Artichoke Lasagna
2 cup shredded cooked chicken breasts

14 oz artichoke hearts (drained

Combine chicken, artichokes, 1 cup mozzarella, Parmesan and tomatoes.

Beat cream cheese, milk and garlic powder with mixer until well blended; stir in 2 Tbsp. basil. Mix half with the chicken mixture.

Spread half the remaining cream cheese mixture onto bottom of 13×9-inch baking dish; cover with a layer of noodles and 1/3 of the chicken mixture. Repeat layers of noodles and chicken mixture twice. Top with remaining noodles. Pour remaining cream cheese mixture over top, sprinkle with remaining mozzarella; cover with foil.

Bake 25 min. or until heated through. Sprinkle with remaining basil. Let stand 5 min. before cutting to serve.

Note: Spray the foil with cooking spray before using to cover the lasagna to help prevent the foil from sticking to the cheese on top of the lasagna.

Shortcut: Purchasing a fully-cooked rotisserie chicken at the supermarket is a quick way to obtain cooked chicken for recipes. Check to make sure the chicken is hot, not just warm, when you purchase it. If you are not using the chicken immediately, cut it into pieces and store in tightly covered containers in the refrigerator for up to 3 days.

Serving suggestion: Serve with your favorite steamed vegetable.

This was sooooo good! I used the noodles you don't have to boil and it needs a bit more liquid for those kind, so they ended up pretty al-dente following the recipe exactly. Next time I may soak those slightly first or use the pre-boil kind.