Recipes Mike's Easy Salmon Spread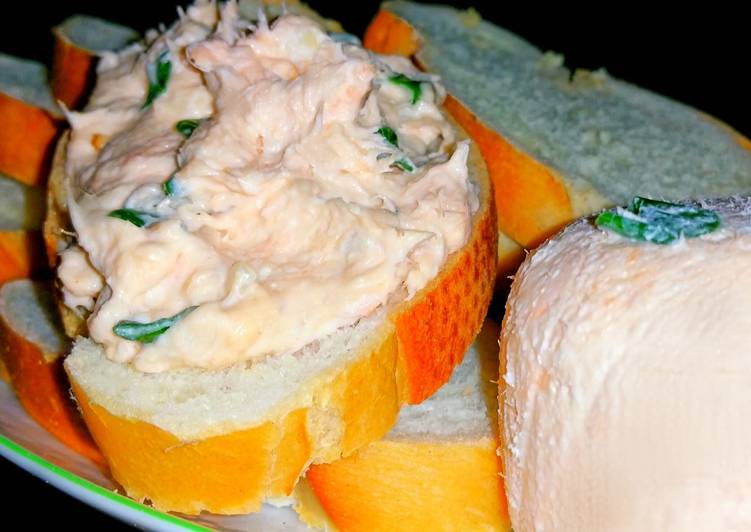 Recipes Mike's Easy Salmon Spread
Salmon Cheese Dip

2 packages Phila. Cream Cheese

1 6 or 8 oz of Salmon Filet [or more]

1/2 cup Purple Onions [fine minced]

3 tbsp Green Onions [chopped-packed]

2 teaspoon Dried Parsley [or 1 tbsp packed fresh]

1/2 tsp Each: Old Bay instructions Garlic Powder – White Or perhaps Black Pepper – Dill

1 tbsp Horseradish [optional – but an individual can add more]

Optional Additions

4 Drops Chemical Smoke [not the organic extract]

1/2 teaspoon Lemon Juice

2 dash Worcestershire Sauce

3 dash Hot Sauce

a single Sour Cream Or perhaps Mayonnaise [to thin]
You can microwave your salmon filets for 2 to 3 minutes covered, cook at 350° for 15 minutes per pound, poach for 5 minutes or purchase already prepared salmon. Smoked, natural or – even canned – in a pinch. Your choice!

Heat cream cheese in a medium sized bowl and microwave for 60 seconds. Mix in chopped or flaked salmon. Add all other ingredients. Mix well but not too fevered. Unless, you want a creamier texture!

Chill for from least an hour. Know that you can easily mold your salmon cheese dip in to any shape you'd like. Just use cling wrap or equivalent and cool. Serve with baguette chips, crackers, celery or carrots sticks. Most any type veggie will work. When spread is chilled, consider Melba Toast, or others alike, as cracker options since they hold up well to this spreads weighty weight and thickness.