Recipes Southwest Egg Rolls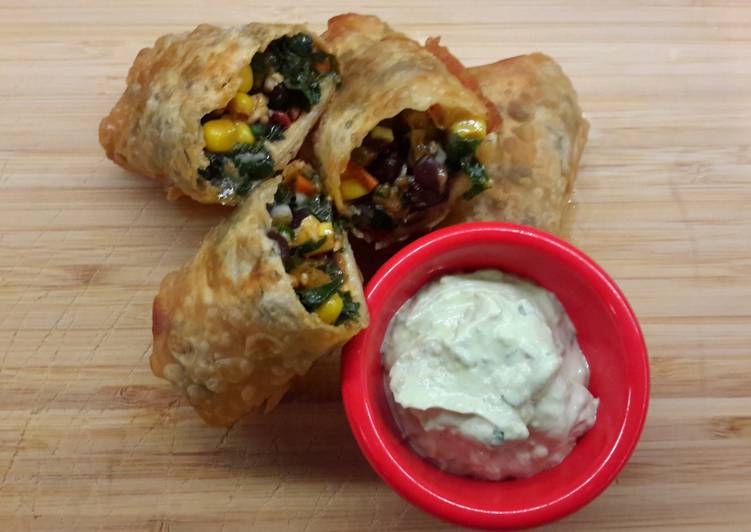 Recipes Southwest Egg Rolls
egg rolls

2 tbsp chopped Roasted Red Bell Peppers (in a jar)

2 tbsp chopped green onions

1/2 cup corn

1/2 cup black beans (rinsed and drained)

2 tbsp frozen spinach (thawed and squeeze well to drain)

2 tbsp diced pickled jalapeño pepper slices

1/2 tbsp chopped fresh flat leaf parsley

1/2 tbsp chopped fresh cilantro

1/2 tsp ground cumin

1/2 tsp chili powder

1/4 tsp garlic salt

1/8 tsp cayenne pepper

3/4 cup pepper jack cheese

5 egg roll wrappers

1 vegetable oil for frying

Avocado Dip Sauce

1/2-2 avocados

1/4 cup sour cream

1/4 cup Real Mayonnaise

1/2 tbsp apple cider vinegar

1/8 tsp kosher salt

1/4 tsp finely chopped fresh flat-leaf parsley

1/8 tsp onion powder

1/4 tsp chopped fresh dill

1/8 tsp garlic powder

1 tbsp buttermilk
Recipes Southwest Egg Rolls
Take 2 heaping tablespoons of mixture and place on an egg roll wrapper.

Heat oil in pan (approximately 1/2″ in bottom) to 350°

Drain on paper towel and serve with Avocado Dip.

For Avocado Dip Sauce: In a small bowl smash avocados with a fork then mix in the rest of ingredients.