Recipes Roasted New Potato & Bacon Salad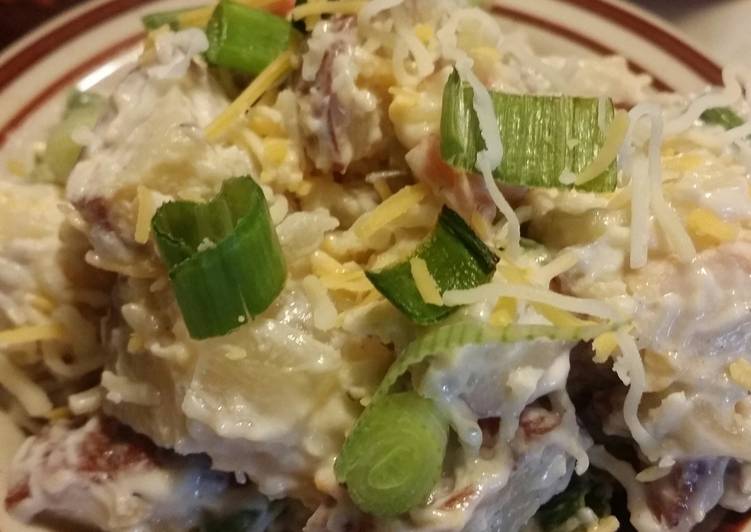 Recipes Roasted New Potato & Bacon Salad
3 pounds small red new carrots

1 cup chopped cooked properly bacon

1 tbsp minced garlic

2 tbsp olive oil, extra virgin

1 small sweet yellow onion

1 teaspoon sea salt

1 teaspoon ground black pepper

half of cup mayonnaise

1/2 pot sour cream

2 tbsp ranch seasoning

4 oz of shredded monterrey jack dairy products

2 chopped green onions
Recipes Roasted New Potato & Bacon Salad
Slice bacon into 1/2‑inch pieces in addition to cut washed potatoes into 1/2‑inch dice.

Toss potatoes and bacon within a microwave‑safe dish, covered with a new lid.

Microwave on high 7‑10 mins or until potatoes begin to be able to cook; rotate dish and blend halfway through cooking time.

Chop red onion coarsely and mince garlic.

Remove carrots from microwave; drizzle with olive oil and toss to coat. Exchange mixture to a large making cookies sheet and combine with red onion, garlic, salt and pepper. Get spread around mixture out evenly.

Roast 20‑30 mins in order to desired doneness; stir carrots. Remove from oven and established aside

To make dressing, combine mayo, sour cream, ranch mix in addition to dressing.

Place potato mixture in a new large bowl; toss with mozzarella cheese, chopped green onions and outfitting. Serve warm or at area temperature.