Recipes Vickys Stuffed Peppers with Curried Rice, GF DF EF SF NF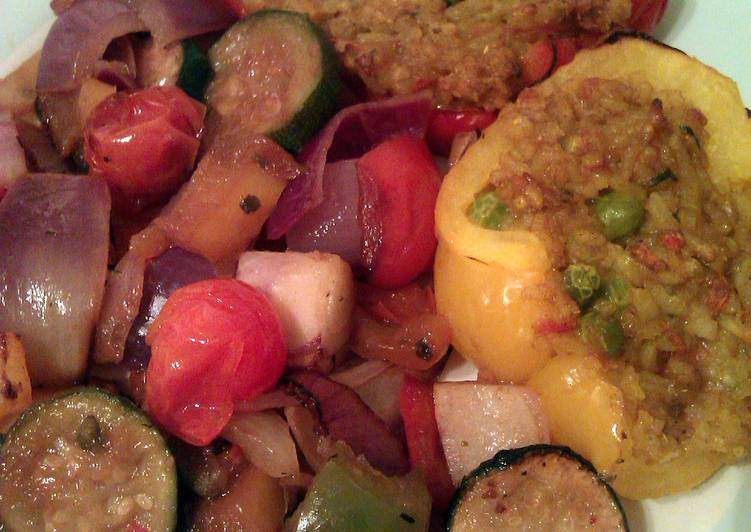 Recipes Vickys Stuffed Peppers with Curried Rice, GF DF EF SF NF
3 clove chopped garlic

1 red onion, finely chopped

1 tbsp curry powder, mild medium or hot, your choice!

120 ml plain yogurt, I make my own or use Koko brand coconut yog

3 carrots, peeled and finely diced or sliced

2 potatoes, peeled and finely diced

450 grams peas

150 ml water

1 salt

Recipes Vickys Stuffed Peppers with Curried Rice, GF DF EF SF NF

Heat some oil in a pan over a medium/high heat. Add the onion and garlic and fry off until translucent

Add the yogurt and curry powder and cook for around 3 minutes or until thickened slightly

Mix in the potatoes, carrots, peas and the 150mls of water. Cook for 5 minutes

Preheat oven to gas 6 / 200C / 400°F

Pour the boiling water in a pan and add the rice. Cook for 5 minutes then drain and add to the saucepan with the other ingredients cooking

Turn heat to low, put the lid on the pan and cook for 20 minutes

Meanwhile, spray a baking tray with oil and lay the pepper halves cut side down and give them a spray of oil. Put them in the oven for 20 minutes. They should be coming out at the time the saucepan mix is ready

Take the peppers out of the oven and turn over. Give the rice a mix then spoon into the pepper halves. Put back into the oven for a further 5 minutes

Serve hot with veg on the side or maybe a homemade naan bread – recipe in my profile!