Recipes Turkey baconburger with grilled onion and garlic aioli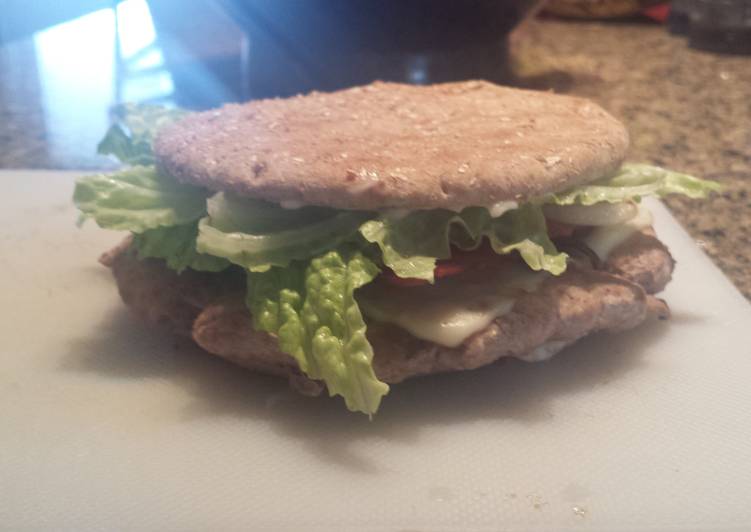 Recipes Turkey baconburger with grilled onion and garlic aioli
1 slice Turkey bacon, cooked

4 oz ground Turkey

1 slice low fat Swiss cheese

1 orowheat sandwich thin

aioli

1 clove crushed garlic

1/4 sliced Vidalia onion

1/4 cup Olive oil based mayonnaise
Recipes Turkey baconburger with grilled onion and garlic aioli
Form ground Turkey into burger. I made mine about a quarter inch thick and roughly 3-4 inches wide so use more or less ground turkey. Fry in a pan/grill/griddle. Salt and pepper to taste. I used a griddle only because I can fit everything at once on it. I would probably grill this next time.: -)

While you're cooking your burger, grill/fry the sliced onions and crushed garlic in just enough butter so it doesn't burn or dry out. I didn't add butter in the ingredient list because you should use very little. Use real butter, or light oil or olive oil will work also. With oils keep your cooking temp a little lower. Cook this on about medium heat.

The last time you flip the burger over add the Swiss cheese so it can melt a bit. Toast the sandwich slices of you want. It's better, in my opinion, to toast the buns/bread.

The onions and garlic should be done by now. You'll want them slightly caramelized and soft. Take the mayo, onions, and garlic and put it in a food processor or, if you have one of these wonderful stick blenders (the metal small appliance by cuisinart) pictured, use it. Blend it together. It shouldn't be smooth, the onions should still be somewhat chunky. Add some steak seasoning (McCormick dry seasoning). Taste this while you make it. Add as much or little as you want, everyone's taste is different.