Recipes Stir-fried Goya (Goya Chanpuru)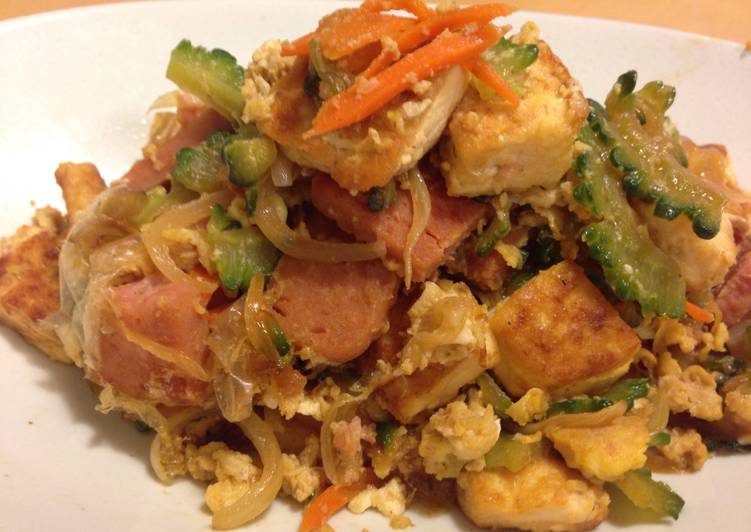 Recipes Stir-fried Goya (Goya Chanpuru)
1/2 (20 cm) goya (cut in half lengthwise, remove the seeds, cut in to 3~5mm slices)

200 g firm tofu (drained and cut in to bite sized pieces)

100~150 g pork or ham (cut in to bite sized pieces)

1/2 sliced onion

1/4 carrot (cut into thin strips)

1~2 beaten eggs

Seasonings:

* 1 tbsp benefit

* 1 tbsp me llaman sauce

* 1/2~1 tbsp oyster sauce

1 tbsp vegetables oil or olive oil with regard to frying tofu

1 tbsp sesame oil

dried gracioso flakes for topping (optional)

salt and pepper for seasoning
Recipes Stir-fried Goya (Goya Chanpuru)
Sprinkle salt on goya and scrub, leave it for about 10 a few minutes. Wash with water and drain properly.

Heat the oil (vegetable or olive oil) in a skillet over medium heat, stir fry tofu until browned. Remove tofu from the particular pan and set aside.

Heat the sesame oil within the same pan, add pork, onion, carrot, goya and stir fry regarding 1~2 mins(softened). Put tofu back within the pan and then add seasonings and combine.

Fill the beaten egg over and mix quickly to mix. Season with salt and pepper. Top with dried vistoso flakes (optional).