Recipes Chicken Chimichanga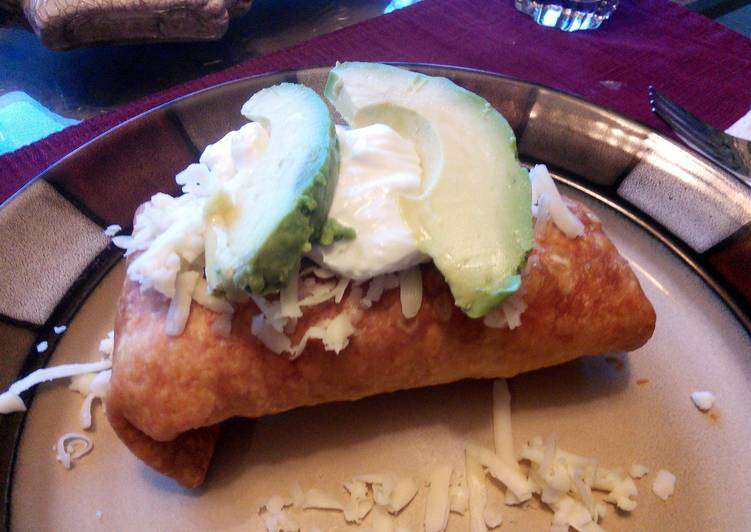 Recipes Chicken Chimichanga
2 tbsp vegetable oil

1/2 glass diced white onion

1/2 tsp minced garlic

one tbsp chili powder

1/2 tsp chili powder

.25 tsp ground oregeno

1/2 tsp ground cumin

one shredded rotisserie chicken

one tsp salt

1/2 teaspoon pepper

1 4-oz can green chili

8 10-inch flour tortillas

1 glass shredded Monterey jack dairy products
Recipes Chicken Chimichanga
Heat 2 tbsp oil in a large saute pan over medium high heat. Add onions and saute until softened about 2 mins. Add the garlic, chili powder, oregano and cumin, cooking and stirring until fragrant, about 1 min. Add shredded chicken. Season with salt and pepper. Stir in the green chilies. Cook 5 mins or until heated through. Set aside.

One of the time, place the tortillas on a work surface, keeping the remaining tortillas covered with a moist towel. Spread half a cup of the chicken mixture and a rectangle in the center of the tortilla. Sprinkle with 1 to 2 tablespoons of cheese. Fold the bottom of the tortilla over the filling and then fold the sides over. Fold the top of the tortilla over the folded sides and secure the sides with wooden toothpicks. Place folded side down.

Using tongs lower the chimichangas into a deep fryer folded side down wanted to time. Hold a chimichangas with the tongues into a seal together. Cook until golden brown on all sides about 3 minutes. Drain on a paper towel and continue with remaining Chimichangas.

Remove toothpicks in serving me with enchilada sauce or salsa drove all over the top with a sprinkling of cheese.

If desired add jalapeño peppers with the onions. You can also add black beans and Spanish rice in the tortilla when adding the chicken.