Recipes Stir-fried Squid & Cucumber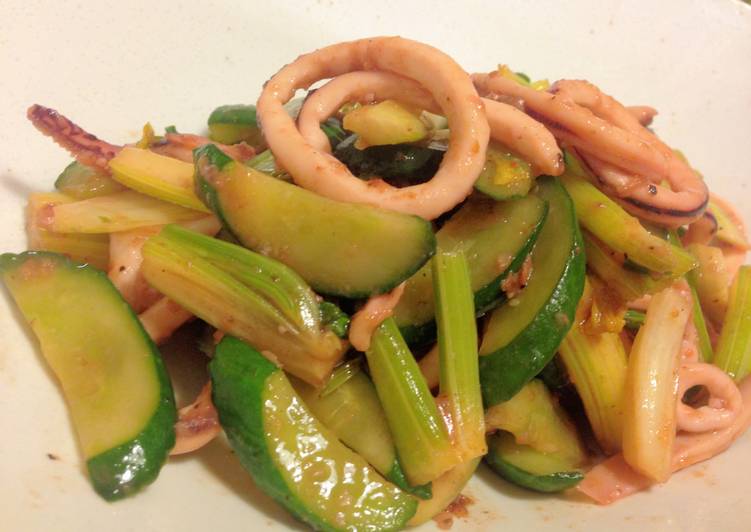 Recipes Stir-fried Squid & Cucumber
1 squid (gutted, cleaned, cut straight into 5~7mm round slices)

Smaller quantity of salt, pepper, flour intended for squid

1 cucumber (cut by 50 % lengthwise, cut into 5~7mm pieces, sprinkle salt and leave to strain moisture out well)

1 stick celery (cut into 3cm length)

1 tsp ginger (chopped finely)

1/2 ~1 teaspoon garlic (chopped finely)

1 pinch crushed red pepper

2 tbsp * sake

1 tbsp * soy sauce

half of ~1 tsp * rooster broth(chicken stock powder)

1 tbsp vegetal oil

1 tsp sesame oil
Recipes Stir-fried Squid & Cucumber
Remove water from the squid properly, sprinkle salt, peppe and flour, wring off excess.

Temperature the vegetable oil in a skillet, stir-fry ginger and crushed red spice up with low heat. Add squid, oatmeal, cucumber and cook for 1~2 minutes over high heat. Add seasonings noted with * and keep stir-frying till the flavor blended.

To complete it off, pour sesame oil through the edge of the pan to inside of of it, stir once.