Recipes Chocolate Genoise Sponge Cupcakes with Whipped Cream and Blue Fondant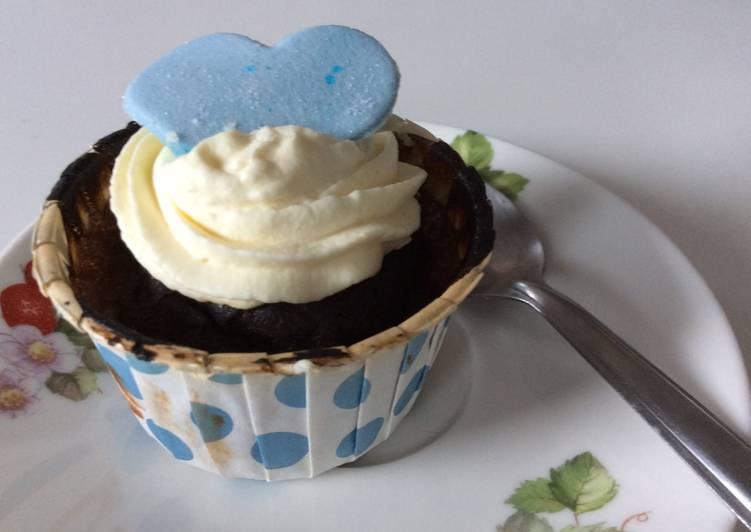 Recipes Chocolate Genoise Sponge Cupcakes with Whipped Cream and Blue Fondant
Genoise Sponge

4 Eggs

2/3 cup Caster Sugars

1/4 tsp Salt

0.5 cup Cake Flour

2 tbsp Cocoa Powder

Whip Cream

1 cup Heavy Cream

1 tsp Vanilla Extract

1 tbsp Sugar

Fondant

one Fondant

5 dash Blue Food Coloring
Recipes Chocolate Genoise Sponge Cupcakes with Whipped Cream and Blue Fondant
Beat eggs, sugar and salt.

Use electric hand mixer and beat over warm water until the foam rises up.

Sift in flour and cocoa powder.

Gently fold together with a spatula. Not break the egg foam.

Scoop the batter into the cupcakes liners about 2/3 full.

Bake for 195 C for 11 minutes

Let it cool completely on a wire rack.

Pour Cold whipping cream into a bowl.

Whisk for 2 minutes then add sugar and vanilla extract.

Continue whisking until stiff.

Pour the cream in the pipping bag.

Cut the end and pipe on cooled cupcakes.

Knead blue food coloring with fondant.

Roll out a fondant and cut into heart shapes using heart shape cookie cutter.

Decorate the fondant on the cupcake.