Recipes Loaded Potato Salad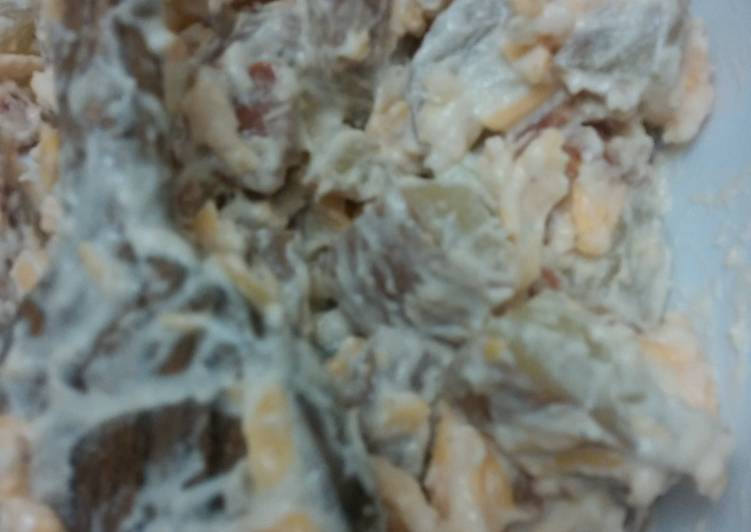 Recipes Loaded Potato Salad
2 1/2 lb (10-14) red potatoes, cut into 1″ cubes

1/2 mug mayonnaise

1/4 cup ranch dressing

1/4 cup sour cream

1 lb bacon

1 cup shredded cheese of choice, I prefer a sharp cheddar

4 finely diced green onions (optional)

1 Season Salt

1 Salt

1 Pepper
Recipes Loaded Potato Salad
Place diced potatoes in a large pot add enough cold water to cover.

Bring potatoes to a boil and boil for about 15 minutes or until tender. You want them soft but not to soft, then they turn to mush and we aren't making mashed potatoes.

I like to set up an ice bath for my potatoes to stop the cooking process. An ice bath is when you fill a bowl with water and ice. After the potatoes are tender transfer them to the ice bath. Let them sit for about 2 minutes then remove to an empty bowl. Put the potatoes in the fridge for at least 30 minutes to an hour.

After the potatoes are in the fridge dice the bacon and cook in a skillet on med heat until crispy. Transfer to a plate lined with paper towel to drain and set aside.

Mix mayonnaise, ranch dressing and sour cream.

Mix together potatoes, cheese and bacon.

Add desired amount of dressing mixture to the potatoes, cheese and bacon. My kids prefer creamier so I usually use all the dressing mixture, some people don't.

Use seasoning salt, salt and pepper to taste.

When I serve mine I like to offer a bowl of extra cheese, diced green onion and diced cherry tomato for people to add as extra toppings.