Recipes Aunt Mary's Vegetable Soup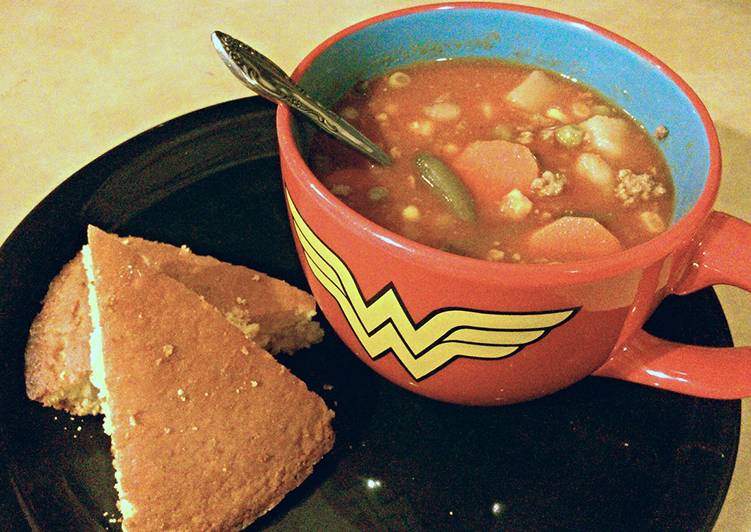 Recipes Aunt Mary's Vegetable Soup
2 lb lean ground beef or even ground turkey (I make use of 1lb of each)

4 medium carrots – slice to 1/4″ slice

3 ribs celery – slice to 1/4″ slice

1/2 large onion – slice to 1/4″ dice

5 medium potatoes – peeled and cut to 1/2″ dice

one unsalted meat broth – just plenty of to protect veggies to prepare

1 large can veggie juice (such as V8)

1 large can entire tomatoes – undrained smashed (preferably by hand)

2/3 cup frozen peas

1 can low sodium natural beans – undrained

1 can corn – exhausted

1 salt, pepper, garlic clove and onion powders in order to taste

one cube meat bullion, or 1 teaspoon bullion granules (optional)

1 small head of diet programs – cut to nip size pieces (optional)

1/2 cup frozen lima coffee beans (optional)

0.5 tsp granulated sugar (optional)
Recipes Aunt Mary's Vegetable Soup
Heat a large pot over medium heat. Add beef/turkey. Crumble to large chunks and brown until no pink remains. Season with salt, pepper, garlic and onion powders to personal taste as it cooks. Drain in colander, do not rinse. Set aside.

Return pot to heat. Add carrots, celery and onion to pot. Then add enough beef broth to cover veggies by about 1/2″. Add a good pinch of salt and pepper. Bring to a boil, reduce heat, cover and simmer until veggies are just fork tender. About 10 – 15 minutes.

Add potatoes and optional lima beans. Continue to simmer until potatoes are fork tender. About 10 minutes more.

Add vegetable juice, tomatoes with juices (I crush each by hand as I add), frozen peas, green beans, corn and browned meat. Also add cabbage here if desired. Taste and adjust seasoning as desired. (Add optional sugar here to balance tomato acidity if desired). Simmer 20 minutes more to heat through and blend flavors.

NOTE: This recipe freezes well to save for later! If you plan to freeze do NOT add cabbage. Cabbage does not freeze well. Lol.