Recipes Rosemary, Garlic, & Mustard Rack of Lamb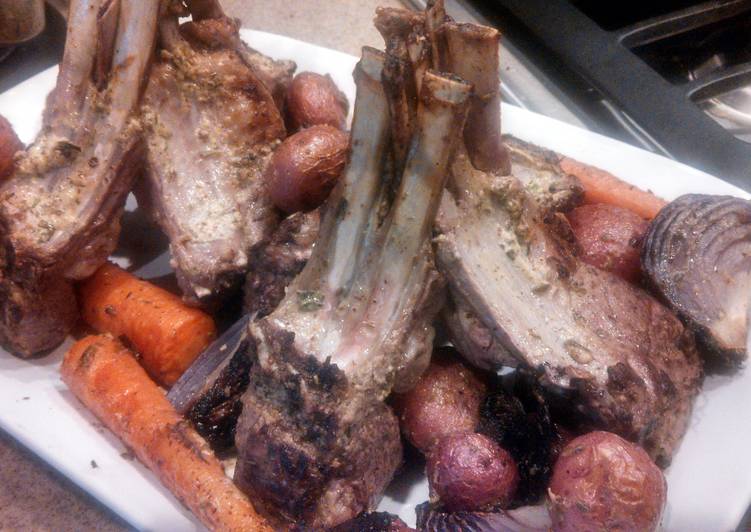 Recipes Rosemary, Garlic, & Mustard Rack of Lamb
8 steak, split in 2

8 clove garlic cloves, peeled, divided

1/4 cup Dijon mustard

.5 cup more virgin olive oil

1/4 cup dry white wine beverages (I used Savignon Blanc)

2 tbsp chopped refreshing rosemary

a couple of tbsp " lemon " juice

three or more tbsp refreshing chopped flat leaf parsley

1/2 lb . small, reddish colored potatoes

a couple of red onions, peeled and quartered

4 carrots

7 stick refreshing thyme
Recipes Rosemary, Garlic, & Mustard Rack of Lamb
Using the tip of a small knife, make small slits all over the meat.

Thinly slice 4 garlic cloves.

Insert garlic into the slits in the lamb; set aside and let rest.

Combine the remaining 4 garlic cloves, mustard, olive oil, white wine, rosemary, and lemon juice in a food processor or blender. Blend until a coarse puree is formed.

Spread half the puree on the top of the chops.

Turn the lamb upside-down and season with the rest of the puree.

Preheat out oven to 400°F.

Add the vegetables to the bottom of the roasting pan.

Drizzle olive oil over the veggies, dust with salt an pepper and cover with thyme sprigs.

Place vegetables in the oven.

Drizzle olive oil in a 12″ pan and place on a burner with medium-high heat.

Add 4 lamb pieces to the pan with the bones pointing to the outside of the pan to ensure even heating.

Cook for 2 minutes and flip.

Cook for an additional 10 minutes.

Transfer the lamb to the roasting rack that matches the pan with the veggies.

Cook for 10 minutes for medium-rare.

Remove the lamb from the oven and let rest for 10 minutes.

At the end of the 10 minutes, plate and serve.