Recipes Butter Cake filled with Rasberry and Lemon Whipped Cream, with a Vanilla Whipped Cream Topping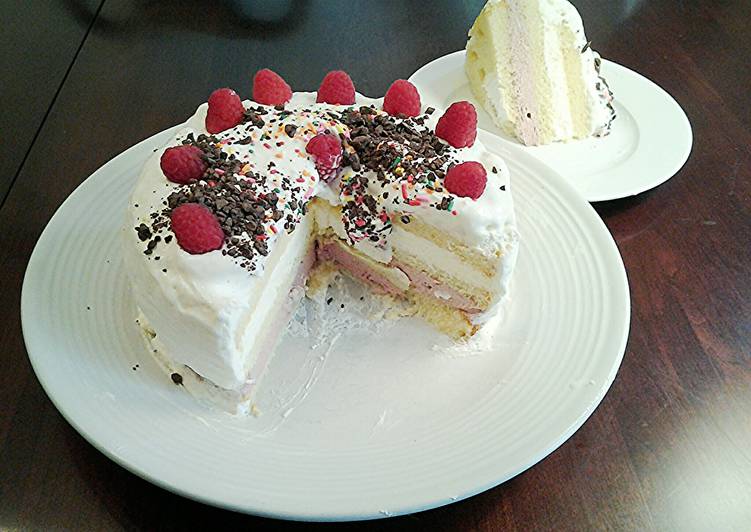 Recipes Butter Cake filled with Rasberry and Lemon Whipped Cream, with a Vanilla Whipped Cream Topping
1 Recipe of my White Butter Cake. Recipe listed below, ( the only change is to use 3– 8 inche cake pans instead of 2 and to decrease cooking time to 10 to 15 minutes )

1 FOR FILLING

1 cup chilled heavy whipping cream

2 tbsp confectoners sugar

1/2 tsp vanilla extract

2 tbsp seedless rasberry jam

2 tbsp lemon curd, homemade or store bought

1 FOR VANILLA WHIPPED CREAM TOPPING

1 cup chilled heavy whipping cream

4 tbsp confectioners sugar

1 tsp unflavored gelatin

3/4 tsp vanilla extract

1 FOR GARNISH

1 tbsp chocolate shavings

1 tbsp multi colored sprinkles

8 or more fresh rasberrys
Recipes Butter Cake filled with Rasberry and Lemon Whipped Cream, with a Vanilla Whipped Cream Topping
Make Cake as directed EXCEPT use 3 –8 inch cake pans instead of 2. This makes 3 thinner layers so the cook time will be decreased to 10 to 15 minutes. Cool cakes before filling.

Beat the 1 cup of cream until soft peaks form, add sugar and vanilla. Remove 1/2 of whipped cream to another chilled bowl. In the first bowl whip in rasberry jam, and whip until stiff. Chill. In second bowl whip lemon curd into the othet half of whipped cream, whip until stiff and chill.

FOR VANILLA WHIPPED CREAM TOPPING

In a small heat proof bowl add 1 tablespoon cold water, add gelatin and allow to soften 5 minutes. Place bowl in a skillet of simmmering water and heat just unti clear, about 1 minute. Remove from heat but use while still liquid.

Whip the 1 cup cream until soft peaks form, add sugar, vanilla and gelatin, whip until stiff peaks form. Chill

Put one layer on serving plate, top with rasberry whipped cream. Add second layer of cake, top with lemon whipped cream. Add third top layer of cake and frost entire cake with vanilla whipped cream.

Garnish with chocolate shavings and sprikles and fresh rasberrys.

NOTE The gelatin in the topping will stabalize the vanilla whipped cream to stay firm and fresh for a couple of days. The rasberry jam and lemon curd provide the same stabalizing. The cake should be kept cold in the refrigerator.