Recipes Chicken Breast with White Bean and Apple Salsa and Sautéed Butternut Squash and Feta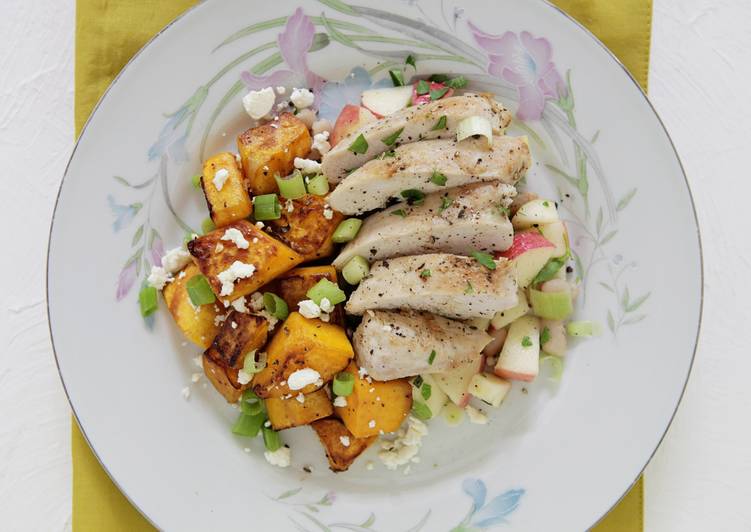 Recipes Chicken Breast with White Bean and Apple Salsa and Sautéed Butternut Squash and Feta
8 ounces chicken, boneless, skinless

one Kosher salt, to flavor

1 Black pepper, in order to taste

White Bean and Apple Salsa

2 each scallions, chopped, greens and whites divided

3 oz white coffee beans, cooked

1 small Macs apple, chopped

1 tsp apple cider vinegar

2 leaves sage, chopped

3 leaves parsley, chopped

1 tsp essential olive oil

Butternut Squash and Feta

3 tbsp vegetable oil, divided

1 small butternut squash, large dice

1/2 tsp ground cumin

two oz feta, crumbled
Recipes Chicken Breast with White Bean and Apple Salsa and Sautéed Butternut Squash and Feta
Season the chicken with kosher salt and black pepper, and set aside at room temperature.

Over medium-high heat, add 2 more tablespoons of vegetable oil. Add squash cubes. Stir briefly, then arrange in a single layer, and cook without stirring for about 5 minutes to brown the bottom sides. Sprinkle with cumin, salt and pepper, and stir to turn cubes
and continue to cook until tender and browned all over. Adjust salt and pepper to taste, then add scallion greens. Remove from heat, and add crumbled feta.