Recipes Ray's' Chicken Mole Stuffed Potatoe Skin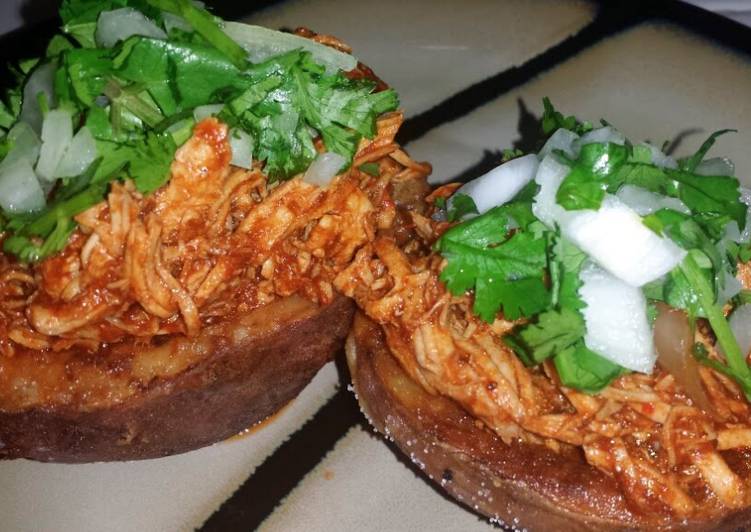 Recipes Ray's' Chicken Mole Stuffed Potatoe Skin
1 potatoes

6 Chicken breast

1 White red onion

1 cilantro

1 onion

1 wrong cream

1/2 cup flour for frying potatoe

1 oil

Mole sauce

5 dried Padilla chiles

a couple of dried new Mexico chilies

4 dried chili enfadado

1/2 onion

2 tbsp Chicken bullion

1/4 teaspoon cumin

1 pinch cinnamon

1 small square mexican chocolate
Recipes Ray's' Chicken Mole Stuffed Potatoe Skin
Start by boiling chicken with 1/2 onion till shredded apart

Cut potatoes in half boil till just tender. Let cool and scoop out center dust with flour and slightly deep fry till crisp. Sprinkle with salt when they come out

Cut stems off chiles take out seeds add 1/2 onion and garlic to pot and boil till tender. Add chocolate into water let melt. Add all ingredients with seasonings to blender blend well till smooth.. taste for seasonings

Now add sauce to shredded chicken, add to potatoe skin too with chopped cilantro, oniins, sour cream cheese etc .. you can top with almost anything you like.