Recipes Sig's Pasta with Tomato, Fennel, Mushroom and Gorgonzola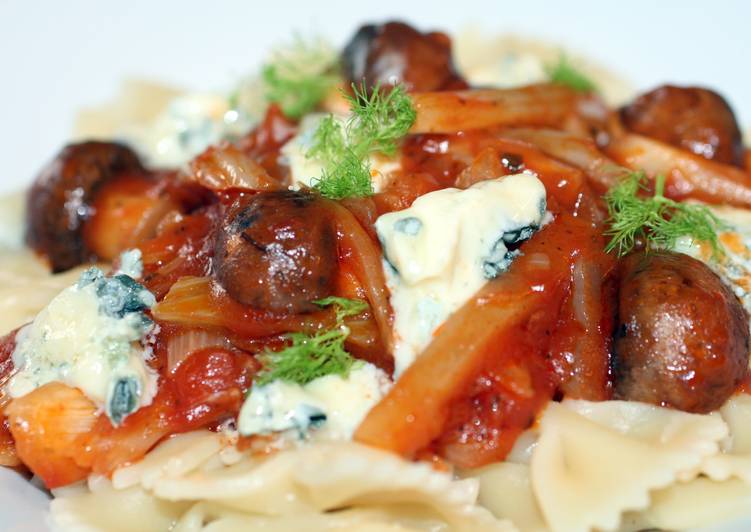 Recipes Sig's Pasta with Tomato, Fennel, Mushroom and Gorgonzola
1 fennel bulb

225 grams pasta of choice

2 tbsp olive oil

1 shallot or small onion, chopped

300 ml bought or home made passata

150 grams small closed brown cepes ( mushrooms)halved

1 pinch sugar

5 ml or 1 teaspoon fresh chopped, oregano

115 grams blue cheese of choice

1 pinch each, salt and. black, fresh cracked pepper
Recipes Sig's Pasta with Tomato, Fennel, Mushroom and Gorgonzola
Crumble the blue cheese more than the top.

to make 1/2 lt relationship passata you need 7 extremely ripe tomatoes, 1 small crimson onion, chopped, 1 tablespoon essential olive oil, 2-3 peeled and crushed cloves of garlic, 1 teaspoon carefully fresh chopped basil, 1 tea spoons each tomato puree and sundried tomato puree, 1/2 teaspoon refreshing black cracked pepper and a new pinch of sea salt.

place tomato plants, basil, galic, salt and self defense into blender and blend properly, in large pan heat the particular onions until just golden, include too blender and blend directly into tomatoes, pour the whole blend into large pan bring in order to boil, add the two purees, simmer down for about 10 to 15 minutes unless you get a best passata sauce, not thin want soup nor thick like blend.