Recipes Vegetarian Pad Thai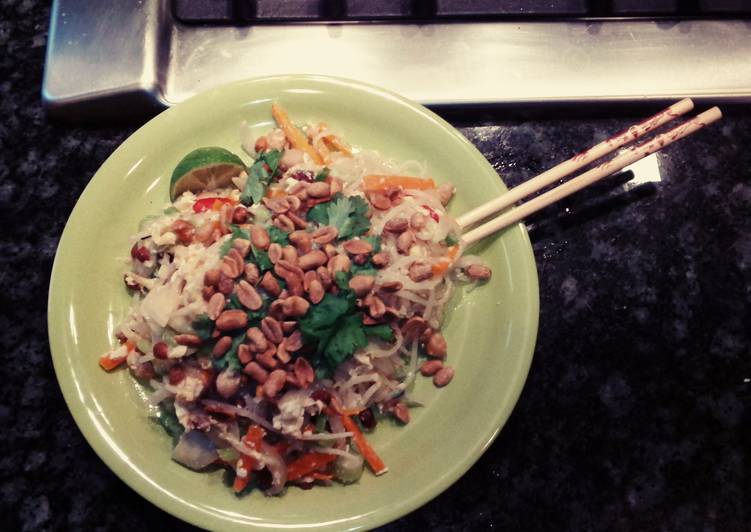 Recipes Vegetarian Pad Thai
2 garlic cloves

1 fresh coriander leaves

1/2 onion, sliced

1 freshly roasted peanuts

1 lime (3/4 sqeezed; 1/4 wedge)

2 tbsp fish sauce

1 tbsp sugar

1 tbsp soy sauce

1/2 cup water

1 rice noodles

1/2 cup sprouted chickpeas

2 eggs

1/2 chili

1 spring onion

1 celery stalk

1/2 carrot

1 tbsp olive oil, extra virgin
Recipes Vegetarian Pad Thai
Roast peanuts for 15 min at 180

Mix sauce: water, sugar, lime juice, soy sauce, fish sauce.

Slice onion, Julianne carrots, slice spring onion, slice celery, rinse chickpea sprouts, slice chili.

Place dry noodles in boiling water to soften – 5min

Heat olive oil in wok, and brown garlic for 30sec. Add onion slices and cook for a minute.

Move everything to the sides and crack both eggs into the center. Break the yokes. Fry.

Add carrots, celery, chili slices, sauce, 1/2 the roasted peanuts. Stir until noodles are soft and everything is coated, liquid is gone.

Add spring onion slices and chickpea sprouts. Stir another minute or 2 .

Garnish with fresh coriander, remainder of roasted peanuts and lime wedge. Serve.