Recipes Robin's Icing Thumbprints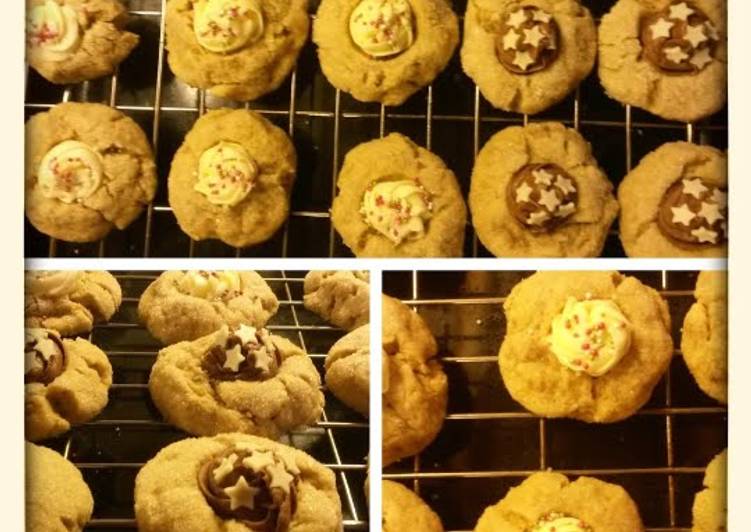 Recipes Robin's Icing Thumbprints
Cookie Bottom:

1 D All-Purpose Flour

1/4 D Brown Glucose

1/2 D Salted Spread (Softened)

.5 tsp Vanilla Extract

just one Egg

2 Tbsp Granulated Sugar (For Rolling)

Decorations (Sprinkles, Almonds, and so forth )

Vanilla Icing

1 D Icing (Powdered) Sugar

seventy-five grams Spread

1/2 Tbsp Vanilla Remove

1/2 Tbsp Double Ointment

Chocolate Icing:

about 50 grams Deep Chocolate (Melted)

1 C Icing (Powdered) Sugar

75 grams Butter

1/2 tsp Vanilla Extract

1/2 tsp Double Cream
Recipes Robin's Icing Thumbprints
Preheat oven to 350°F. Place granulated sugar in separate bowl and set aside.

Mix butter, brown sugar, egg, and vanilla together. Add flour and continue to mix.

Roll into one inch balls and roll into granulated sugar before placing on a parchment lined baking sheet.

Using your thumb (I use a wine cork) to indent the center of the cookies.

Bake for 10 minutes. Cookies will not change much in color and will be very soft. Allow to fully cool and harden on cooling racks before topping. Outside hardens while the inside stays soft and delicious.