Recipes Caramel Apple Pecan Pumpkin Protein Pie Individual, Clean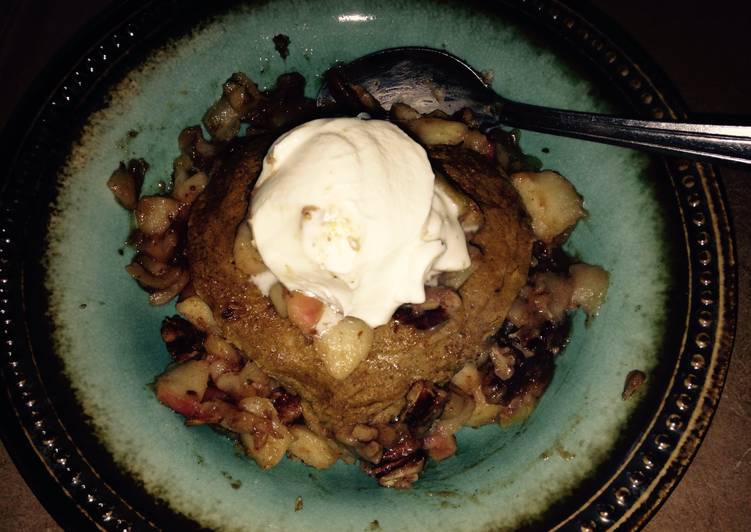 Recipes Caramel Apple Pecan Pumpkin Protein Pie Individual, Clean
Pie

1/2 cup Pure pumpkin pure

1/2 Scoop or 1/8 cup vanilla Shakeology or other protien powder

2 tbsp Egg whites or 1 egg

1 Packet stevia

1 tsp Pumpkin pie spice

Crust

1 tbsp Hemp hearts or pumpkin seeds or pecans

1 tbsp Coconut or almond flour

1 tsp Dates pured or 1 date pitted

1 tsp Coconut oil

Topping

1 Apple diced

2 tbsp Pecans chopped or pumpkin seeds

1 tsp Coconut oil

1 dash Pumpkin pie spice

1 tsp Date Pure

Optional garnish

1 Top with pain Greek yogurt, whipped coconut cream, or coconut butter
Recipes Caramel Apple Pecan Pumpkin Protein Pie Individual, Clean
In a small bowl mix pie filling.

Grind in coffee grinder, magic Bullet or food processor crust ingredients. Pulse nuts or seeds first to break down then add coconut oil and date. Press into medium sized individual ramekin or microwave safe bowl or large mug.

Spoon pie filling over crust: microwave 2-3 mins till no longer wet in the middle.

While pie is cooking: In small fry pan add coconut oil and toast pecans and then saut diced apples with date pure and pumpkin pie spice till soft.

Add your fav topping of choice!