Recipes Sig's Boozy, Fruit, Nut, Chocolate and Marzipan, Log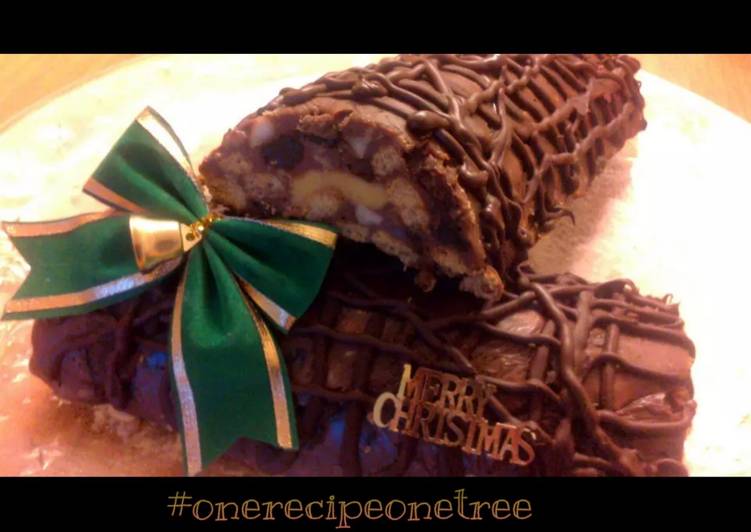 Recipes Sig's Boozy, Fruit, Nut, Chocolate and Marzipan, Log
175 grams digestive biscuits

90 ml evaporated milk

3 tbsp rum or brandy(optional)

125 grams raisins

300 grams milk chocolate, broken into pieces

100 grams chopped mixed nuts

60 grams Cadbury's Bournville chocolate

250 marzipan (optional)
Recipes Sig's Boozy, Fruit, Nut, Chocolate and Marzipan, Log
Use a long pudding type tin of choice, (rolly polly tin) greased and covered in strong cling film (kitchen plastic wrap), makes it easier to remove from tin, or alternatively roll mixture tightly in strong cling film into a sausage shape. Add mixture in tin onto the kitchen wrap, press down slighghtly to fit tin.

Mix broken biscuits like ginger biscuit or other Christmas type, roughly chopped nuts and the raisins.

Pour milk and milk chocolate in a pot and melt on a gentle heat. Transfer from heat. Cool slightly. Stir in the nuts, fruit, alcohol and biscuit. Mix well.

Spread mixture into lined tin or make the sausage shape. If just using the cling film make sure to flatten either top or bottom slightly so that the log can rest without rolling around later.

If using marzipan fill tin half with cake and chocolate mix or add in half way when shaping the sausage with mix. Add your marzipan evenly to the middle then add rest of mixture. Finish off with rest mixture. Refrigerate to set completely, then remove from wrapping or tin and decorate and drizzle with melted Cadbury's chocolates to resemble a tree log.

You could use a large old fizzy pop bottle cut that half way lengthways to create sleeve shapes. To cool the cake in. But do be careful as cut plastic can be very sharp.

The cake is my original creation, marrying a German tradition with an English one.