Recipes Sig's Courgette, Lentil & Tofu Fishcake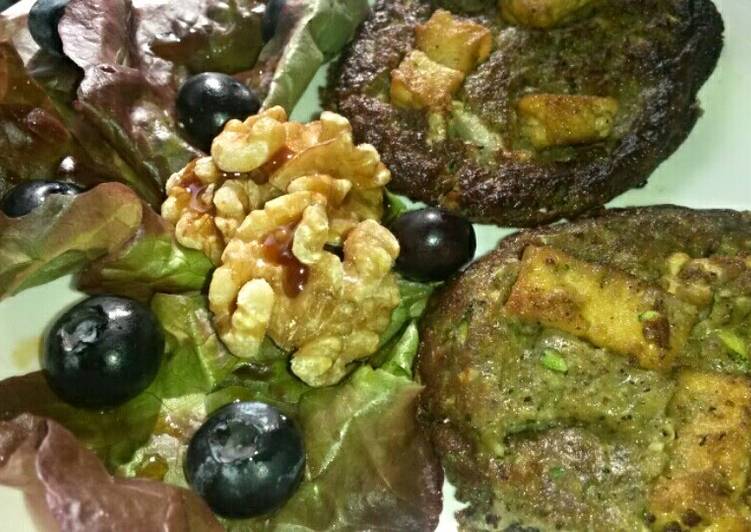 Recipes Sig's Courgette, Lentil & Tofu Fishcake
patties

125 grams puy lentils

150 grams courgettes

2 ovum

145 grms flour

1/2 tsp curry powder

1 pinch chilli powder

1 tbsp fresh chives

100 grams smoked mackerel, not really from can

1/2 red onion

1 clove garlic, big

1 touch salt in order to taste.

twelve small bits of marinaded or plain tofu

3 to 4 tablespoons olive oil

garnish

2 to 4 leafs vibrant lettuce

two tbsp pomegranate syrup or balsamic white vinegar

1 good handful associated with fresh blueberries

12 halved walnuts
Recipes Sig's Courgette, Lentil & Tofu Fishcake
Mix all the ingredients for the patties together in a blender, ( lentils ready cooked and drained very well) except the tofu and oil. It should have a semi soft dough consistency with bits in it, similar to a potato cake. There should be very little liquid visible if any at all. The longer you blend the easier the cakes will break up. It's a very individual thing how you like yours.

Heat the oil on high and turn on medium.

With a tablespoon form little patties no more than two to a pan. Push some pieces of tofu into each patty.

Brown well from one side make sure the patties don't stick

Turn over to brown the side with the tofu.

In the meantime prepare your garnish, put some pretty lettuce on a plate, drizzle with the pomegranade syrup, some walnuts and blueberries.

Be careful when removing from pan as they can break if very thin patties.

Remove the patties put on plate serve.