Recipes Mike's Garlic Lime Chicken Fajitas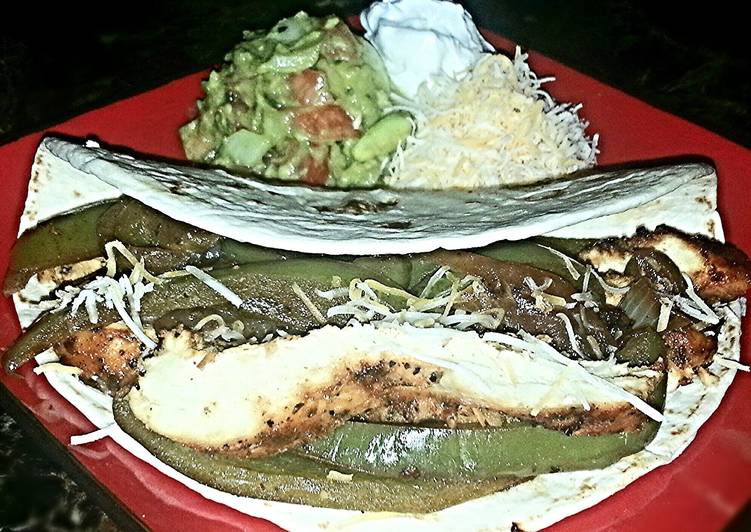 Recipes Mike's Garlic Lime Chicken Fajitas
4 big Trimmed, Boneless Chicken Bosoms

2 Green Bell Peppers

1 Yellow Bell Spice up

1 Red Bell Spice up

2 large White Onions

1 bunch Fresh Cilantro [chopped]

1 small Head Garlic [minced]

1/2 cup Lime Fruit juice

1 tbsp Powdered Garlic

1 tbsp Onion Natural powder

1 tbsp Chili Natural powder

1 tsp Cumin

one Ziplock Bag

8 Tortillas

1 Container Vegetable Oil
Recipes Mike's Garlic Lime Chicken Fajitas
Slice veggies into long strips, chop Cilantro and mince garlic first as to avoid cross contamination.

Clean and slice chicken breasts in strips and place in Ziplock bag.

Add lime juice, 1/4 cup Cilantro and all powdered seasonings to your Ziplock bag and mix well.

Place bag in fridge to marinate for at least 1 hour massaging bag occasionally.

Set minced garlic and remaining Cilantro to the side.

Add vegetable oil to skillet and heat.

Pour chicken and marinade in skillet and fry until cooked throughly.

Pull chicken and place on a paper towel.

Add additional oil to the same skillet and re-heat.

Place all vegetables in skillet with minced garlic and cook to your personal preference. Some enjoy their veggies a bit crisper. Be careful not to burn the garlic.